Login
Log in if you have an account
Register
By creating an account with our store, you will be able to move through the checkout process faster, store multiple addresses, view and track your orders in your account, and more.
Create an account
Wild Camping for Couples
05 Aug 2020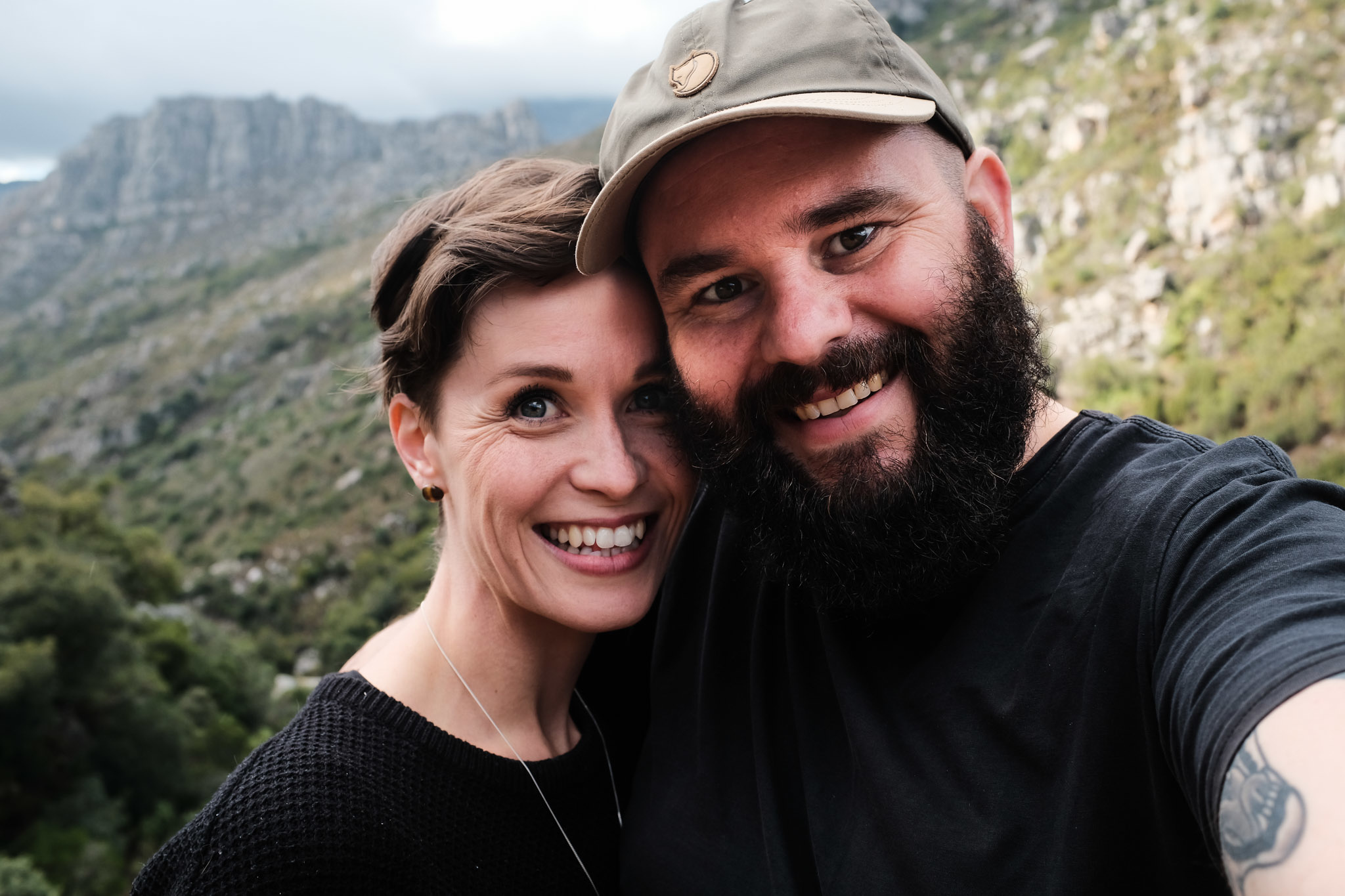 An intimate adventure in nature.
For those of you who don't know us, Lauren and I are high school sweethearts. We've been together longer than we were apart and there's no other way that I'd have it. Since the beginning, we've been pretty big on adventures. Some of those have been getting married, starting a family, buying a house. Others have been more focused on spending time in the outdoors. We've explored almost all of the local mountains, the Cederberg, the Karoo and the Overberg. While we don't have a huge budget for adventures, we find a way to make them happen.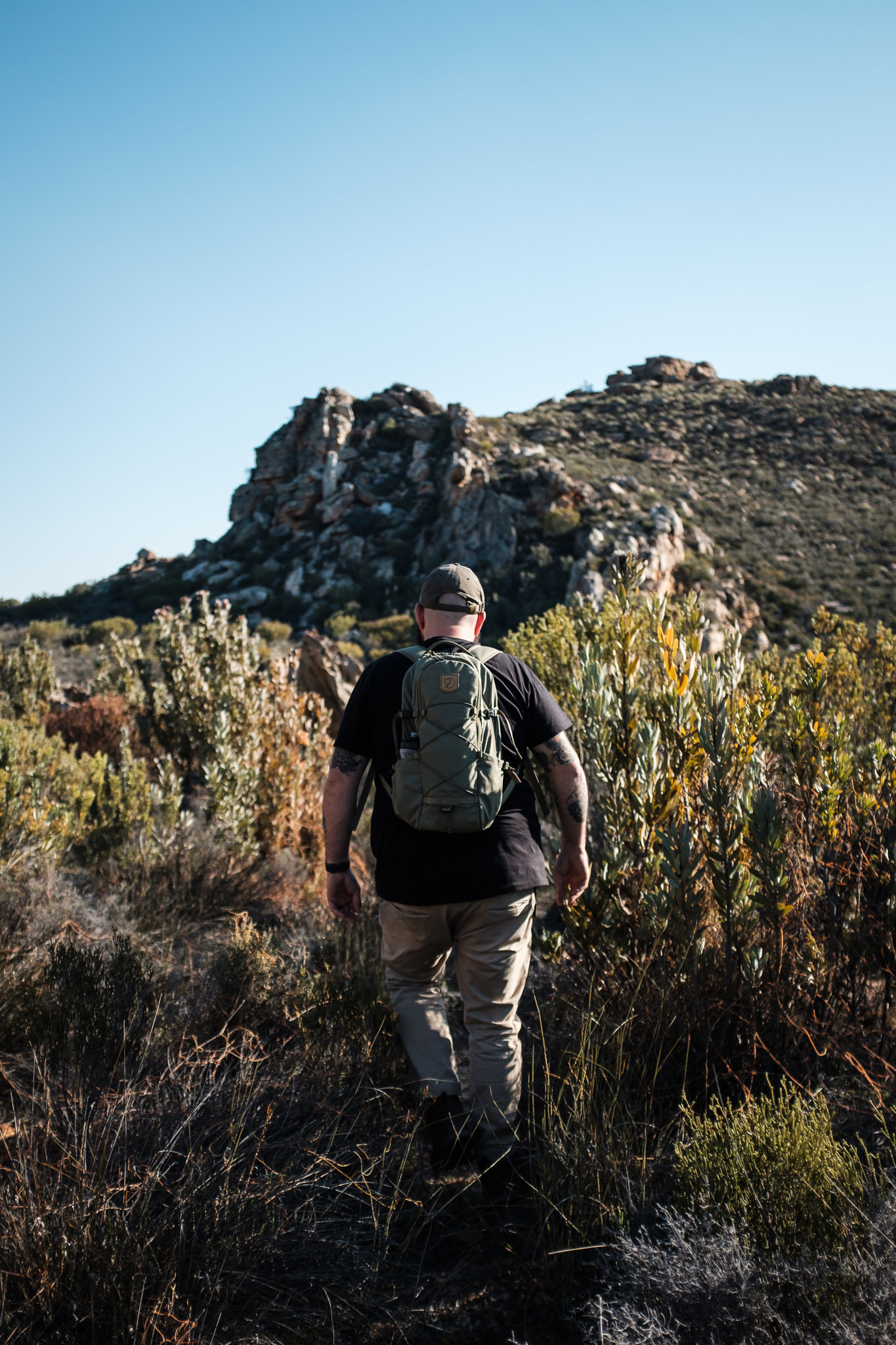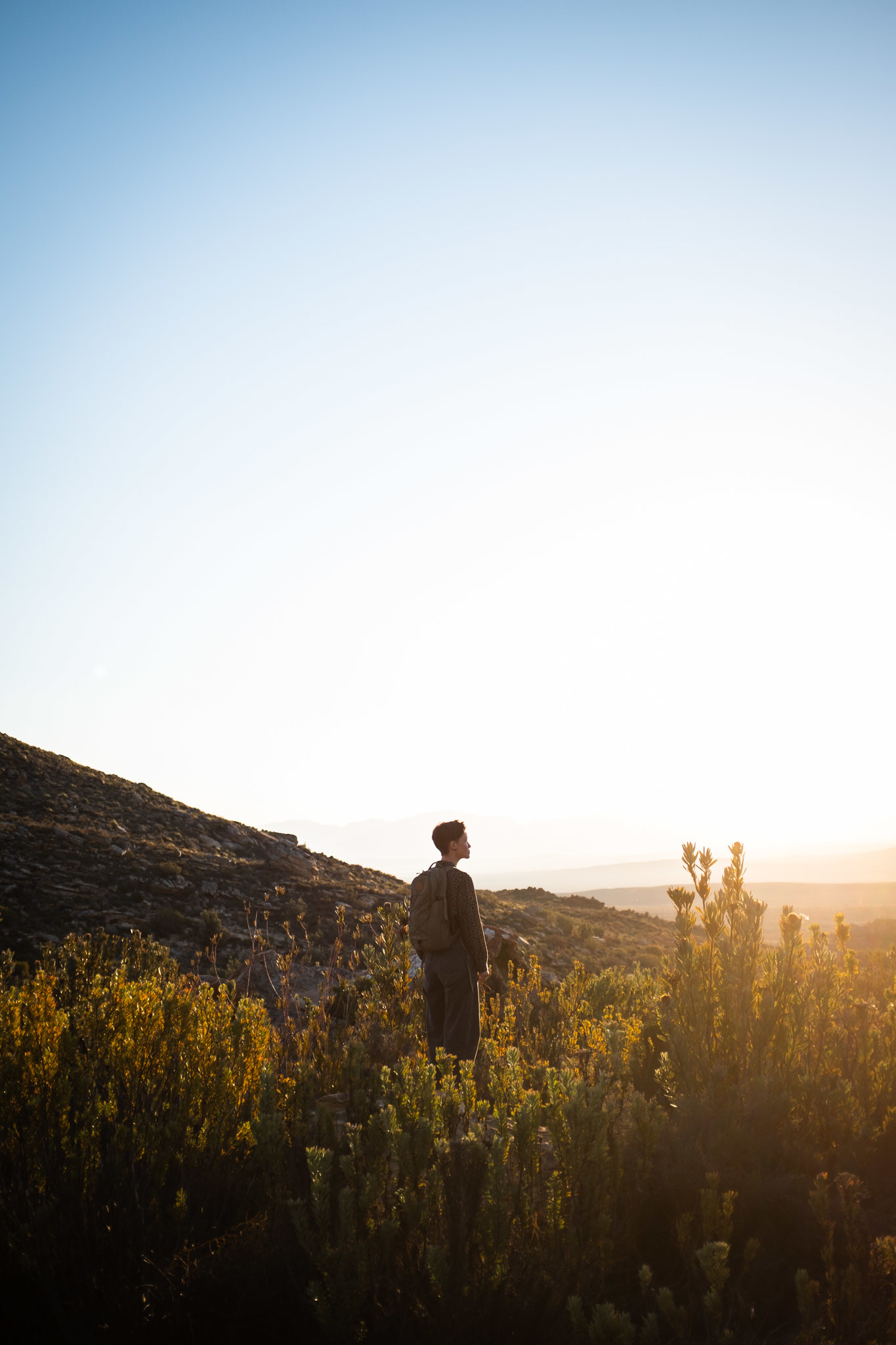 Since lockdown, we've needed to reimagine adventures and how we approach them. With certain restrictions in place, it's been a little harder to move freely which has posed its own challenges. However, once I heard that cross district travel was allowed, I knew I needed to make a plan. Generally speaking, when people talk about date nights, it includes a movie, a dinner, maybe some cocktails. As a couple we enjoy those things, but never feel hugely fulfilled once they are done. A little bit like a flash in the pan ending in a skinnier bank balance.
For us, investing in our relationship is about finding quiet spaces where there are no agendas other than our own, where our days are defined by the sun rising and setting. With this in mind, I had an idea. About a year or two ago, during a thorough exploration of a new stretch of mountain in the Cederberg, a friend and I found a beautifully sheltered bushman cave. It was an ideal spot for a quick getaway. I pitched the idea to Lauren and she was sold!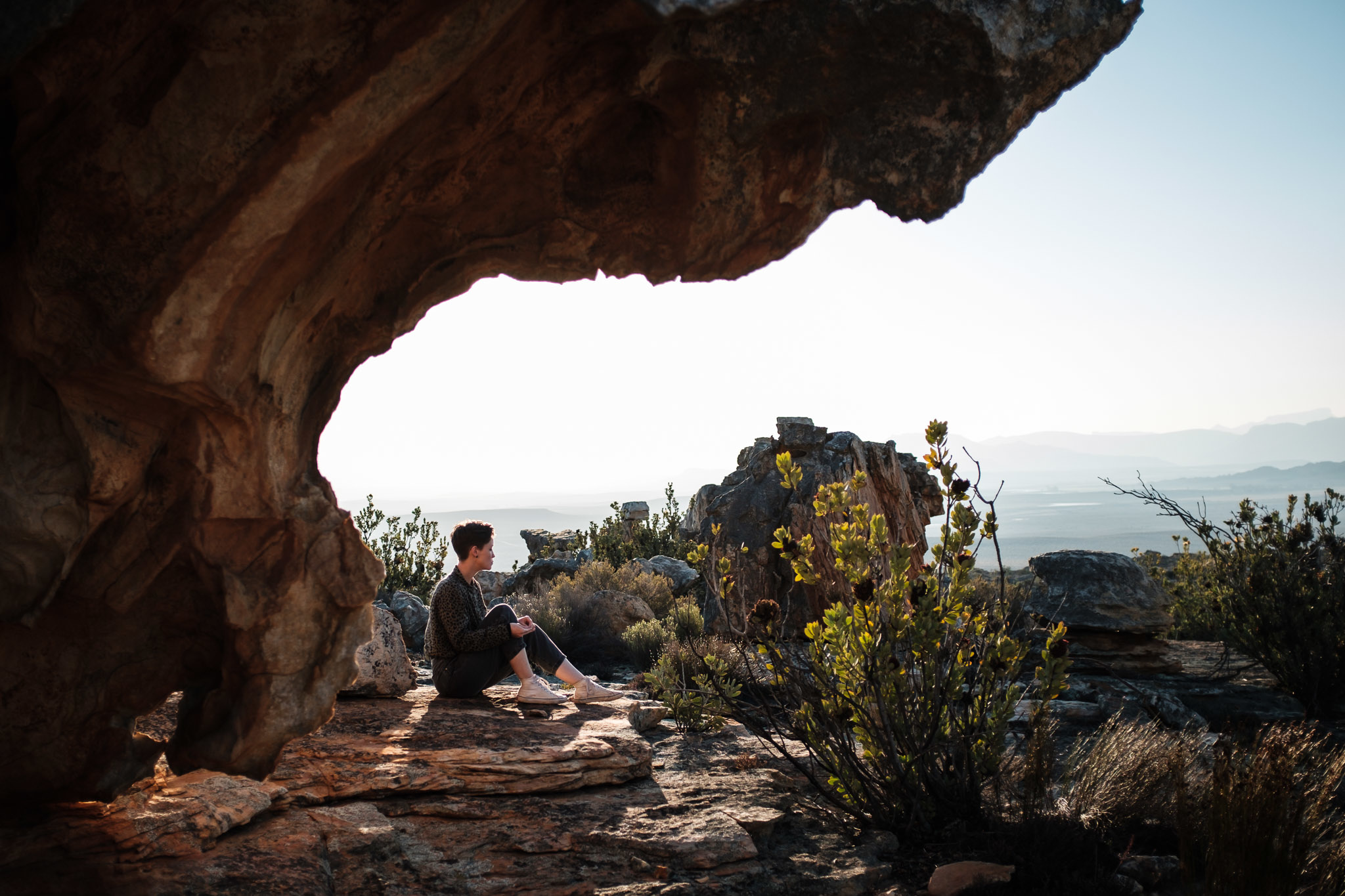 Planning a trip like this is a little more complicated than your average night away. "Wild camping" as we call it requires you to be entirely self-sufficient and prepared for whatever curve balls might be thrown your way. I had marked the location of the cave on my Garmin mapping software on the previous trip, so I went back to better explore the location using a combination of Google Earth and my Garmin software which comprises Basecamp, Connect and Explore. The beauty of those three platforms is that they are able to talk to each other, as long as your GPS location format is the same. I started by looking at satellite imagery of the area, looking for any interesting landmarks. I knew if there was one cave, there would likely be more.
Using shadows as a guide, as well as the natural topography of the land, I plotted a few locations that we could explore on foot, as well as our planned camping location. Knowing that we would be completely on our own, on foot, and a long way from help, making sure that these points were accurately plotted was really important. I took the time to double check my markers before transferring the data to both my Garmin GPS and my Garmin Instinct watch. I made sure that the locations were available on both before moving over to my normal packing list. I use a standard packing list which has been tailored over many trips. For me, it's important to travel with the bare minimum. I always prefer being able to go further, rather than heavier.
On the Saturday morning, I packed everything that we might need. While we had planned to sleep in the cave itself, I knew that the surrounding peaks could still be covered in snow, and as a result, it could be really cold. It seemed wise to pack my First Ascent Lunar tent in case things went a little south. With the car loaded with enough food, water and gear to see us through the trip, we set out on the backroads. We drive a Jimny, and while it's immensely capable, it's not fast. With that in mind, we passed through the back of Durbanville, then Wellington, Bainskloof and Ceres. From this point onwards, I'll be leaving out some of the trip details, I'm afraid you'll have to find the spot yourself. We eventually reached the start of the dirt road where we aired down the tyres and got ready for our adventure to begin. Watching the scenery change into progressively rockier mountains, sparsely covered in fynbos is one of our favourite parts of any trip. It never gets old!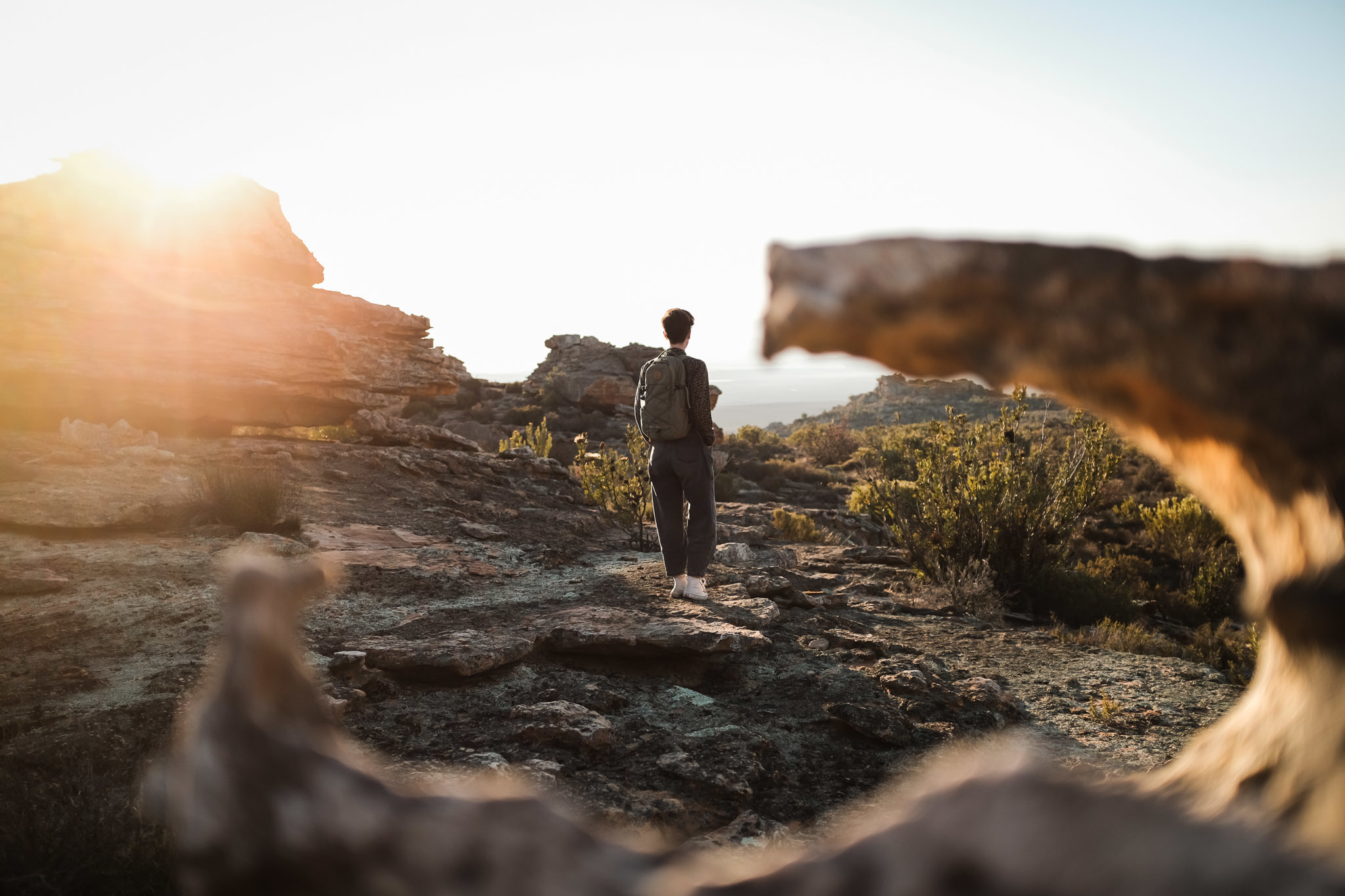 As usual, the GPS lead us to the entrance of a tiny path, seemingly in the middle of nowhere. The path was overgrown which is always promising, it's great knowing that some places remain sacred. After a fairly technical stretch of driving where low range 4x4 is critical, we arrived at the cave, which would be our basecamp for the night. We decided that it was still too early to establish whether or not we would sleep in the cave or in the tent, but showing Lauren the cave remained a priority. We started the 15-meter scramble up to the cave, which required sure footing and patience. Once we made it to the entrance we were greeted not only with spectacular views, but also the most beautiful paintings. It really is a privilege to be able to explore places like this. For a good 10 minutes we just breathed it all in. The sheer magnitude of the area really is something to behold, you realise very quickly just how small you really are.
After a strategic chat, we pressed onward into the mountains, an area which could only be further explored on foot. I grabbed my Fjällräven Abisko 15l daypack, loaded it with some essentials, coffee brewing gear and water. It really is important to realise that while GPS devices have changed the game in terms of exploring, it's critical to thoroughly understand the topography of your chosen location, have a good understanding of how to navigate using a traditional compass and always carry a first aid kit and more water than you think you'll need. The fact of the matter is that if you do this often enough, one day something will go wrong, it's not an "if" kind of situation. Having those foundational skills are often pivotal in swinging the odds from what could be a horror story to one of adventure.
Our exploration was breathtaking, and the afternoon sun was warm and a real treat in combatting a distinct nip in the air. The distant peaks were all covered in snow you could feel the July cold whenever you stopped moving. As we pressed further into the mountains, the rock formations became more and more outlandish. We named many of them, Mushroom Rock, Molar Cave and Home-Sweet-Home were a few favourites. Home-Sweet-Home was a cave which came equipped with a perfectly round rock with a flat top, seemingly the ideal spot to have your friends round for a dinner. We stopped multiple times to enjoy our freshly brewed coffee, appreciate the landscape which was washed in the golden afternoon light and obviously steal a kiss in the caves which were untouched for more years than we could know. As we meandered through the ravines and crags we came across too many animal tracks to mention. From the clawed spoor of the mongoose, to the tiny hooves of the Klipspringer and the fanned-out feet of the spur fowl, they were all a reminder that while we felt alone, we weren't. There was however a standout in the crowded sandy highways, left behind after the recent rain. The spoor of something far more exciting, the "Cape" Leopard. Whilst not recognized as a sub-species just yet, the leopards that we find locally are much smaller than those found higher up in the country. Generally speaking, they seldom grow larger than 35kgs. This spoor was significantly larger than I had found in the past, measuring the same size as my palm. It was pretty fresh too, the wind hadn't rounded out the edges yet, how exciting! This is a bucket list species for me to find in the wild, and I've spent days and hours looking for them. From the Hottentots Holland Mountains, to the far reaches of the Cederberg and the Swartberge. While I know the odds are minimal, I always remain optimistic and intentional when I'm out there. Nevertheless, the sun was setting and we needed to start our walk back, with a new awareness of who we might encounter we needed to remain attentive to the crags and rock formations around us.
When we arrived back at camp, the wind hadn't dropped as predicted, bringing with it an icy chill from the neighbouring peaks. While it would have been wonderful to stare at the Cederberg night sky from the lofty cave, it would be much wiser to pitch the tent in light of the dropping temperature and the risk of wind chill making the night rather unpleasant. Together we pitched our tent and rolled out our sleeping mats and bags for the night. We then proceeded to cook some spectacular burgers in the fading light, from the comfort of the cave. The constantly shifting colour palette of a Cederberg sunset is truly something to behold. The rich red, pinks and purples arrive out of nowhere, contrasting the stark greys and greens which are present in the midday glare.
After dinner, we retreated from the cold into the comfort of our tent. The wind was still blowing, signaling a cold front coming in from the north west. We had certainly made the right decision. While it was cold outside, the comfort of the tent and sleeping bag was glorious and we enjoyed some wonderful reflections of our afternoon adventure before fading off to sleep.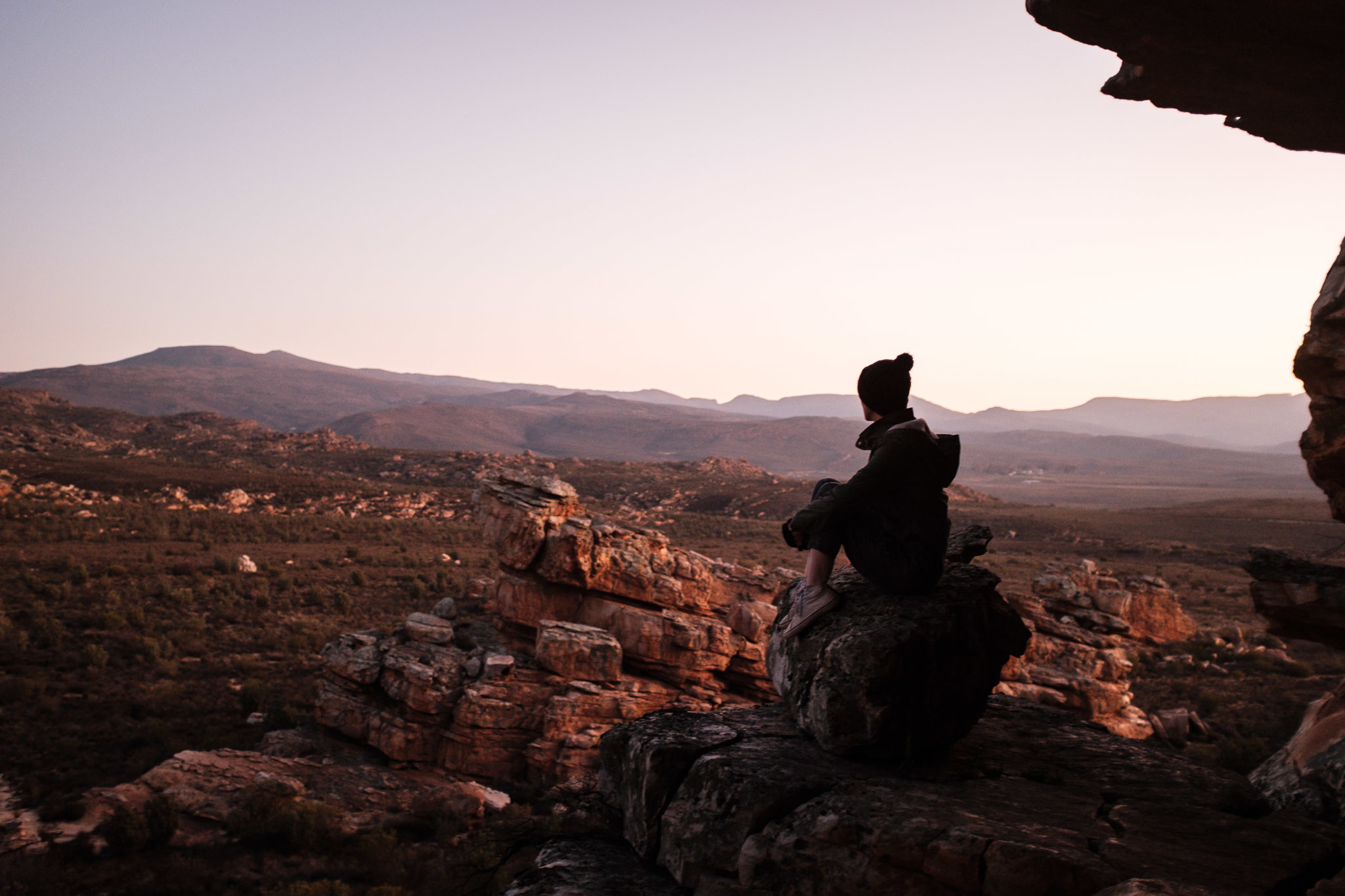 The sun had not yet shown its face, but we were woken by the gentle patter of rain on our tent. Coffee was needed, but we weren't quite ready to get out of bed just yet. Fortunately, I had foreseen this the night before and put our brewing gear and some extra water in the vestibule of our tent. We enjoyed a freshly brewed pour-over before planning our morning together. Hot-Cross buns were on the menu and we followed that with a slow pack. The tent was wet and needed to dry, so we hung that over a bush to dry in the morning sun, which was now poking through the clouds and we enjoyed another freshly brewed coffee. Before hopping into the car, we did a final sweep of the area to make sure that we left no trace of our visit. While some people feel comfortable leaving food scraps and fruit peels behind, I prefer to take everything home with me. Leave no trace, literally.
We left feeling refreshed and fulfilled. It was a beautiful time together and even as we re-entered the hustle and bustle of the towns as we drove home, we spoke about our favourite parts of the trip, and where we would explore next. Trips like these are important punctuations in an otherwise busy life, and are valuable beyond the obvious. Choosing to invest in our relationship, using adventures as a tool, has been invaluable. We'd encourage you to do the same, however that might look for you. Forget the rush every now and then, get out there.