Login
Log in if you have an account
Register
By creating an account with our store, you will be able to move through the checkout process faster, store multiple addresses, view and track your orders in your account, and more.
Create an account
Teaching Them from Young
18 Jan 2021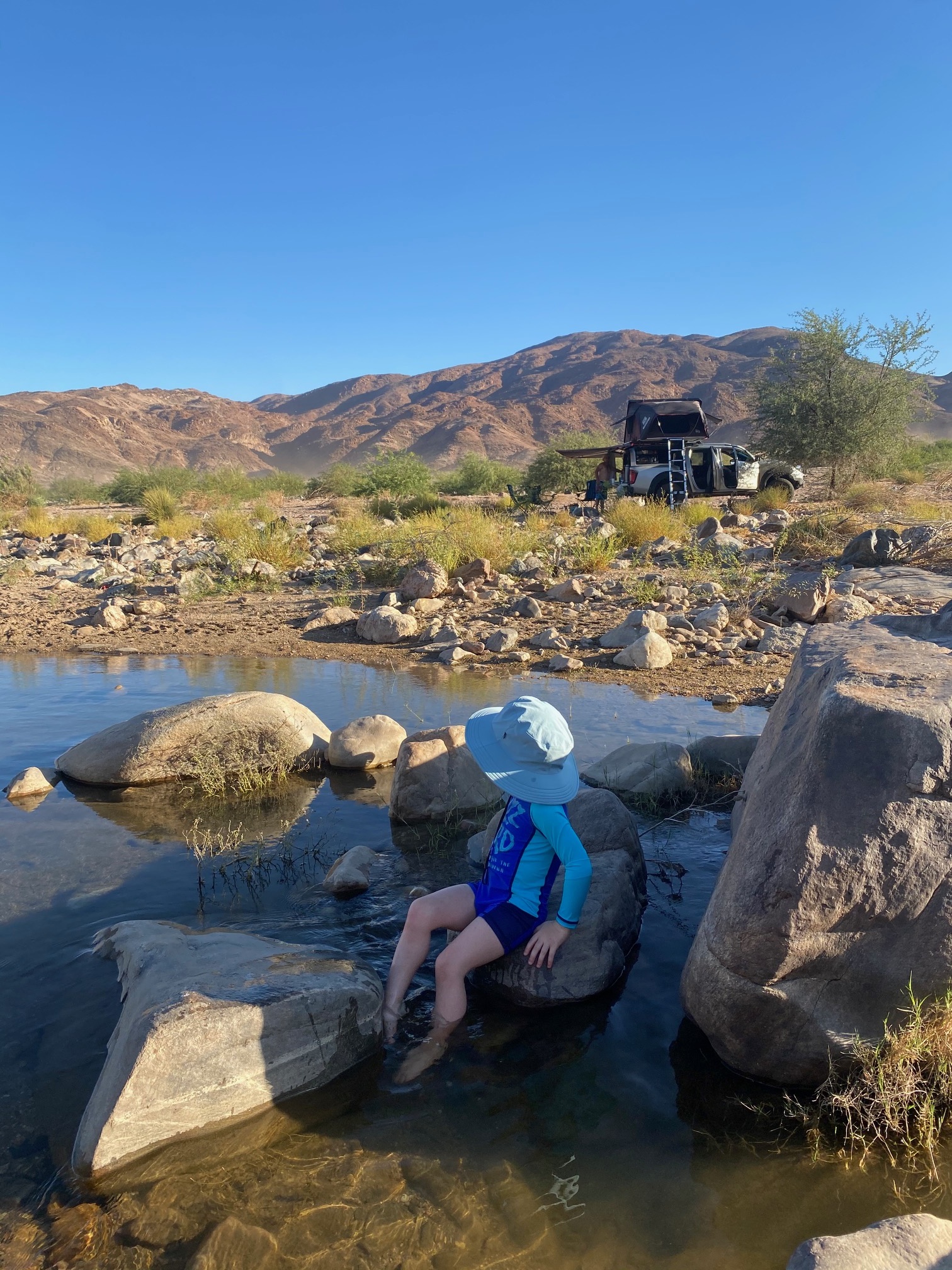 New Friends, New Finds, and Family
On December 24th, my husband Jon and I packed the final things in the car. We strapped in our son Michael (3) and we headed out of Cape Town towards the Namibian border. We booked a place that night to break up the drive, and from there on we had nothing else planned. Not planning our trips has always ended up being the best way to plan. As long as we have our gear, just about enough food and water, we'll be fine.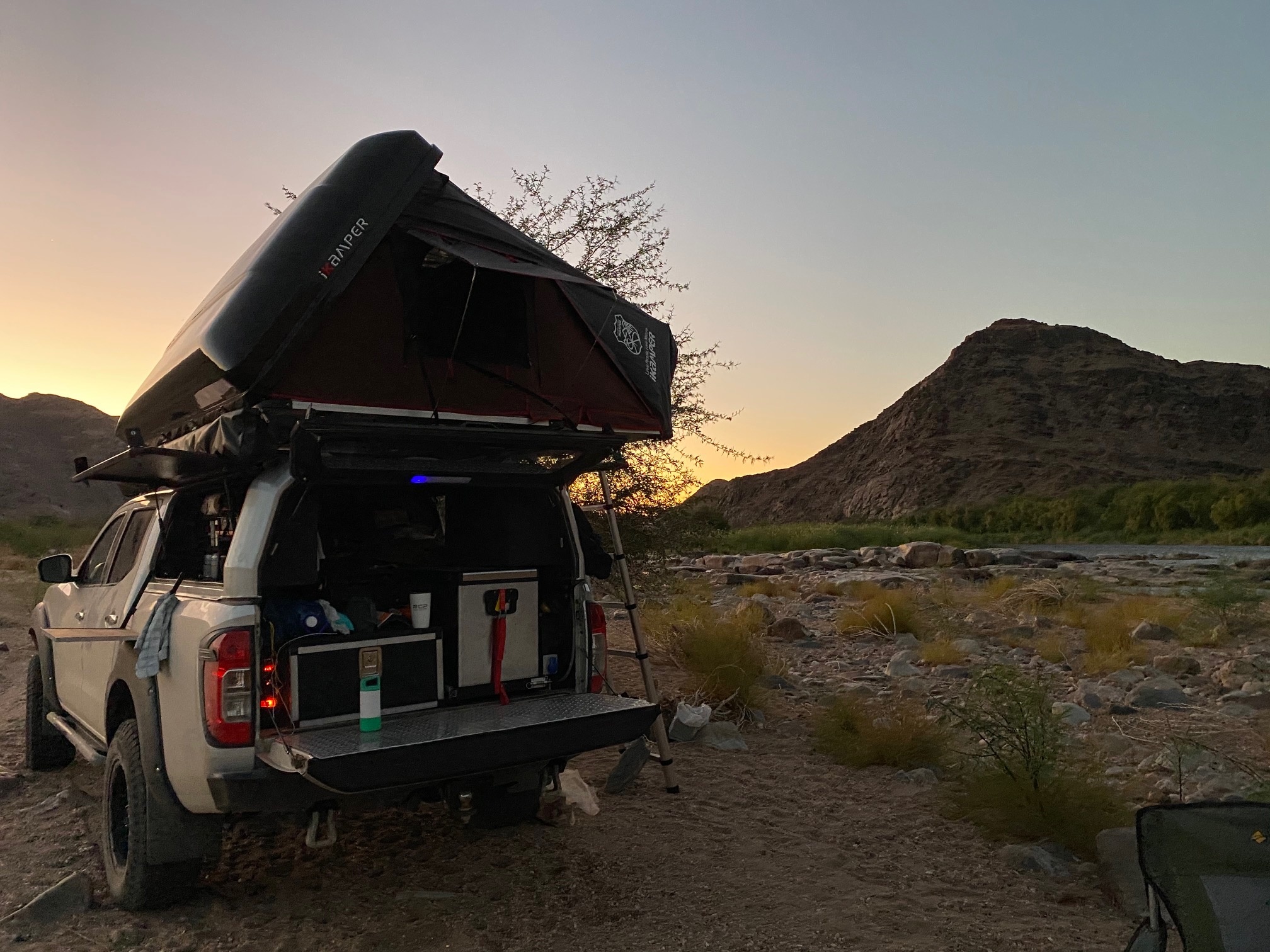 Driving on the 4x4 route which runs along the Orange River, we looked for suitable places to turn off and set up camp. We found a perfect spot on the river which offered breathtaking views and sunsets that can only be found our side of the world. This is really one of my favourite places and we make a plan to head up there most years and experience it in different ways and explore different sections. We were fortunate enough to meet some random people at our one of campsites and they offered for us to join them. They were 5 vehicles in total. Now, my Afrikaans isn't the best (my husband says it's to the point of being embarrassing), but these Afrikaans folk made us feel right at home. We were on the same mission and could exchange travel tips and stories. It's amazing to find like-minded people on the same adventure.
Once we were given our own radio, we knew we'd been fully inducted and we set off!  About 20min in, Jon and I got radioed and were asked to stop the car. We weren't sure what was going on – everything looked to be in order – but we were ready for whatever. As it turns out, our radio had been on the whole time and the group could hear everything we were saying. Now, as much as I know this really could have made for some excellent entertainment, I am extremely grateful for their courtesy. After turning it off, we carried on.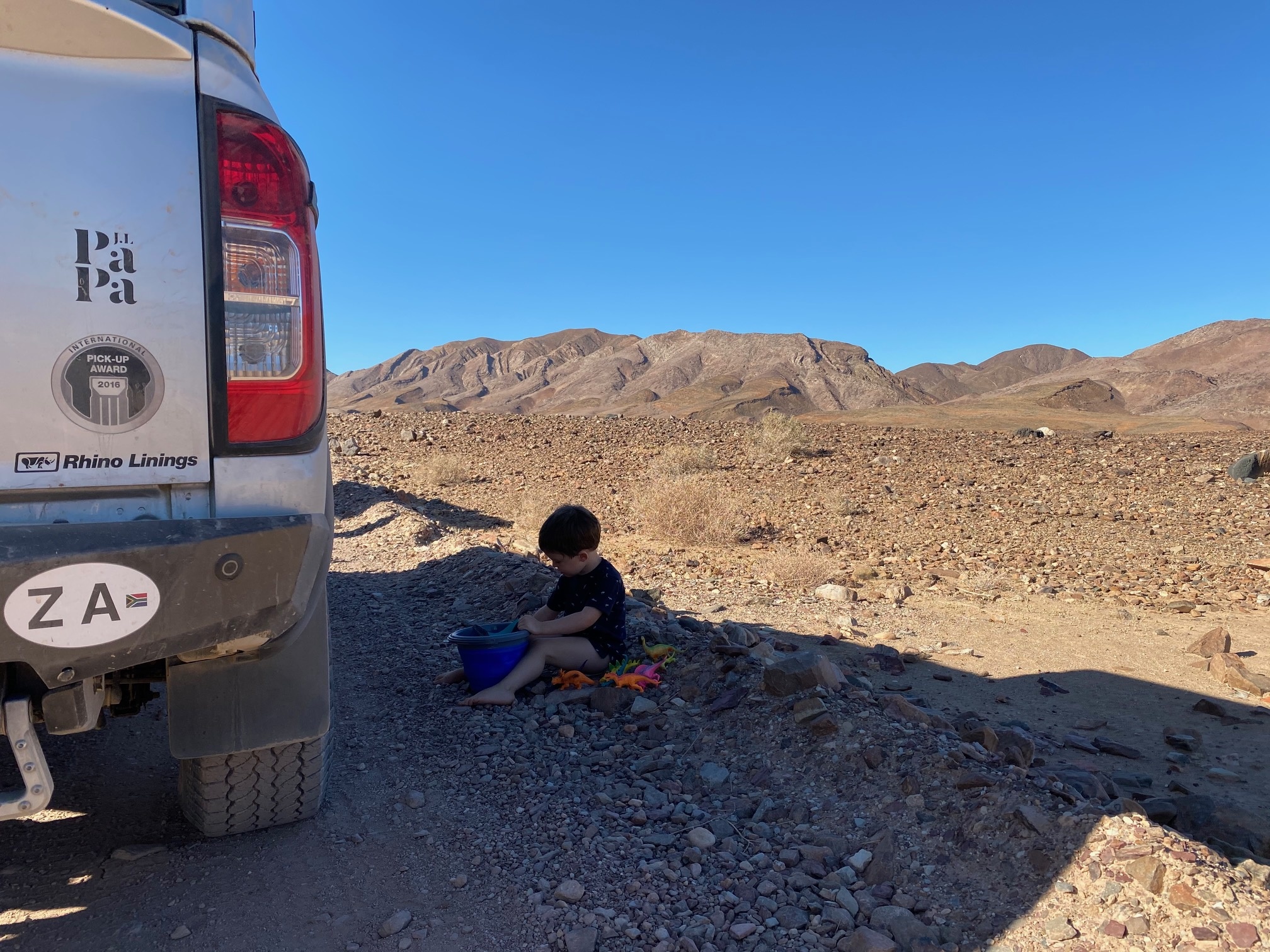 We drove together into the Richtersveld. With such expansive beauty and kilometres of untouched wilderness, the possibilities were endless. Teaming up with the group allowed us to go places and take routes we wouldn't have been able to otherwise. The wild camping experiences here were indescribable and really special.
On the road again, we spotted an Oasis in the middle of the desert. A bottle store. We radioed in this unbelievable find and descended on the tiny shop like a military operation. We were heroes. I think we bought a good 6 months of regular trade worth from the shop owner. It's hot out there, hydration is key to survival.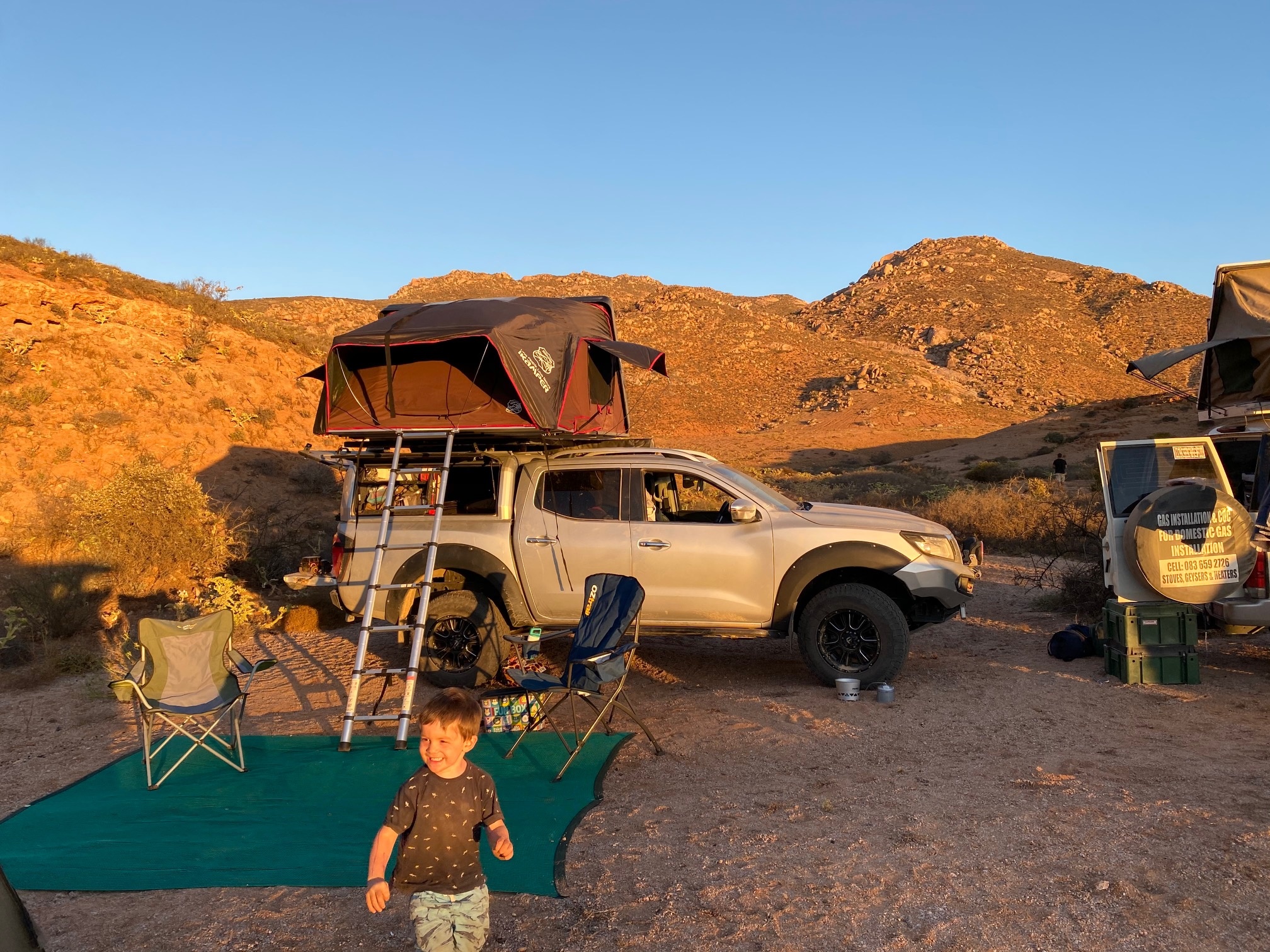 The next day we covered some treacherous ground and one of the vehicles went off the road. It was a stark reminder of where we were, what we were dealing with, and how easily things can go wrong. Thankfully, no one was hurt, but the vehicle was not so lucky. Jon sprung into action and got under the car to see what he could do. While he worked, repairing the steering rack as best he could and fixing the bust tyre so we could move the car out of the way, we popped out our awnings to shade us from the 40-degree heat and made the most of it. Two of the group drove out to find cellphone reception which ended up taking most of the day, so that night we slept right where we had stopped. The next day, a tow-truck with a flat-bed arrived to take the car away. We all stuck together for the rest of the way. We fixed, we comforted those in shock, and we drove everyone to where they needed to be and carried on with our journey. We had made friends for life.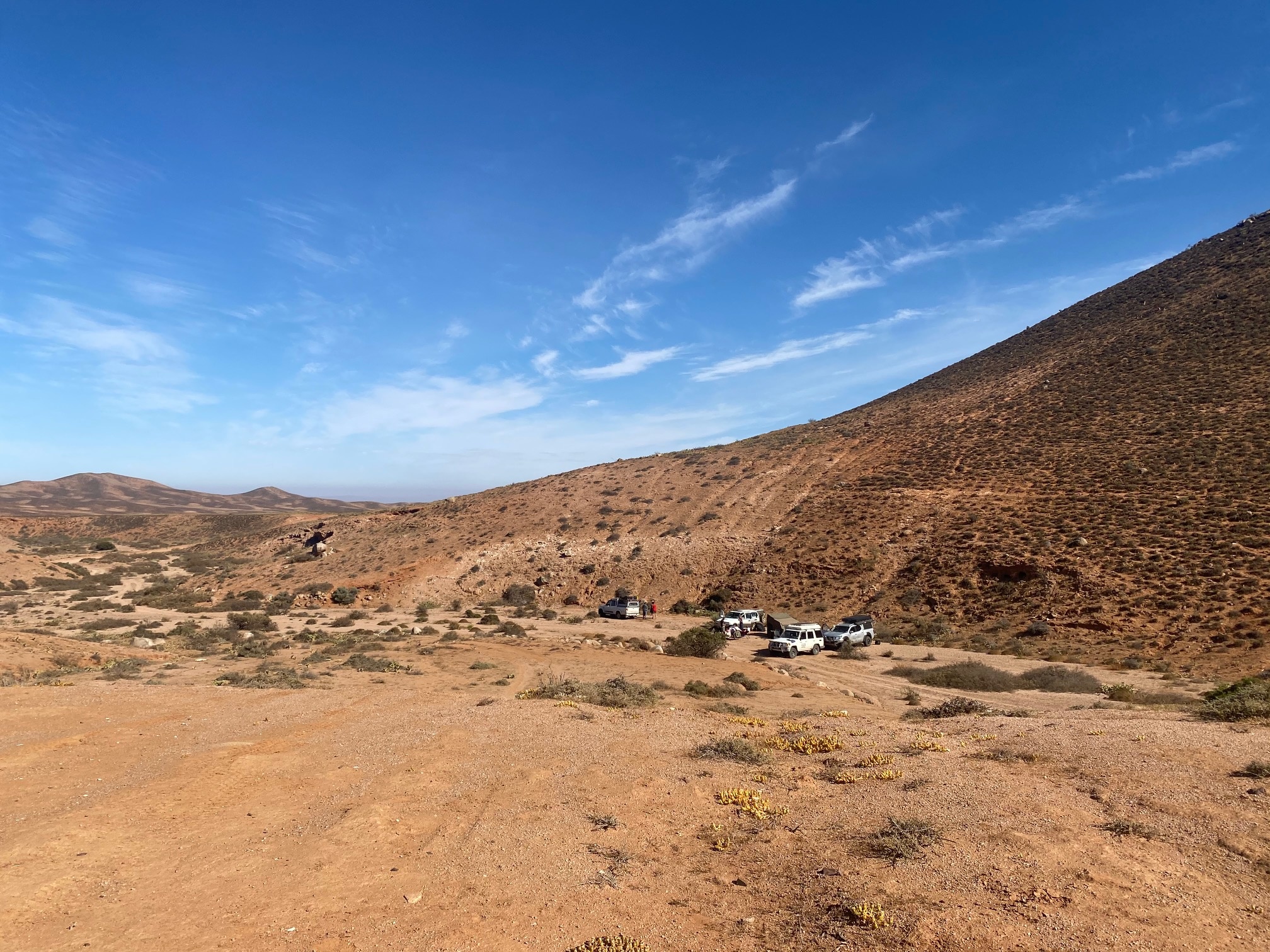 Fast-forward to Port Nolloth, we had reached the coast. We put a yellowtail on the braai, jumped in the sea (don't tell Cyril), and the next day slowly made our way home.
My son has been in a tent with my husband and I since he was 5 months old. Now, at 3.5 years old, he thrives on the open road and has adapted to changing situations. We place huge importance on cultivating adventure, respect for nature and the world we live in, and a bit of grit.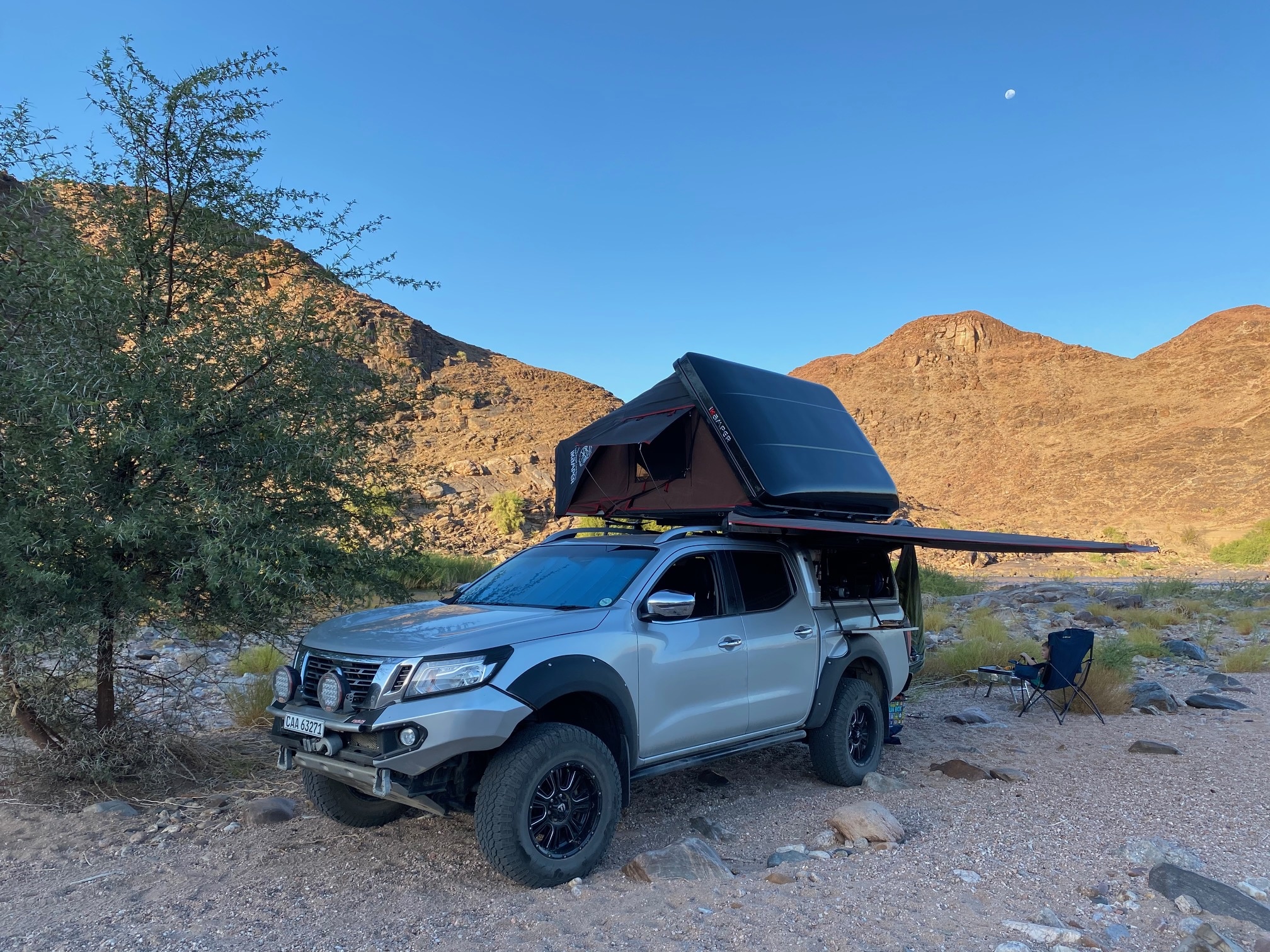 These trips are not easy ones, but they are definitely the most rewarding ones. As a family, we need to work together, work with what we have and adjust to the situations presented to us. We always arrive home a little bit more connected, a little bit more tolerant and a little bit more accomplished.