Login
Log in if you have an account
Register
By creating an account with our store, you will be able to move through the checkout process faster, store multiple addresses, view and track your orders in your account, and more.
Create an account
Summits and Solitude
06 Aug 2020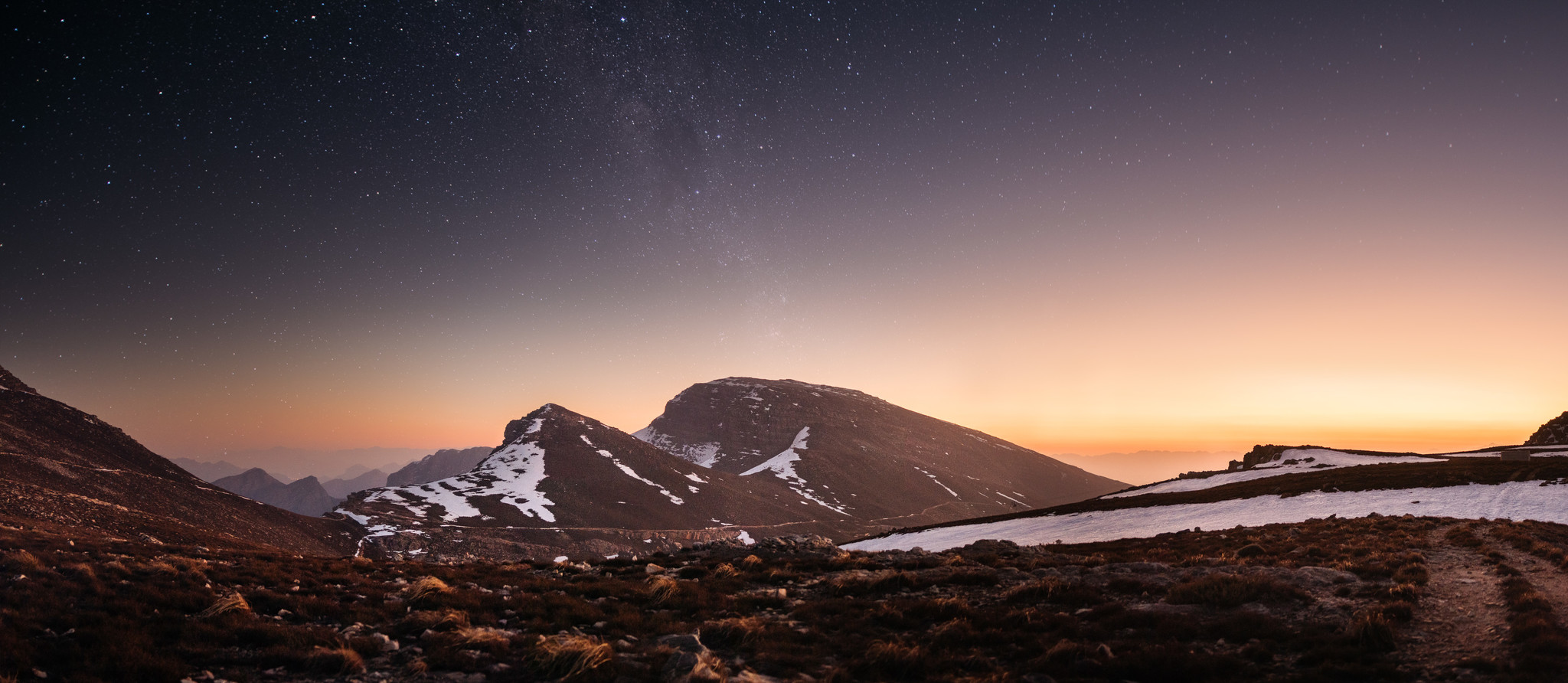 Snow camping on Matroosberg.
What is it about the upper world of the mountains and its strange allure that draws us onward and upwards? Some say the mountains we climb are mountains of the mind, and that the heights of the summits are holy, not intended to be reached by man. For others, it is a spectacle of discovery and mystery. Visible scars of worlds that once met with force, pushing their fringes into the heavens, whatever our fascination with them might be, one thing is certain – they are solitary, quiet places with a prehistoric harmony. You need to trust the depths of patience to truly embrace this marvellous solitude.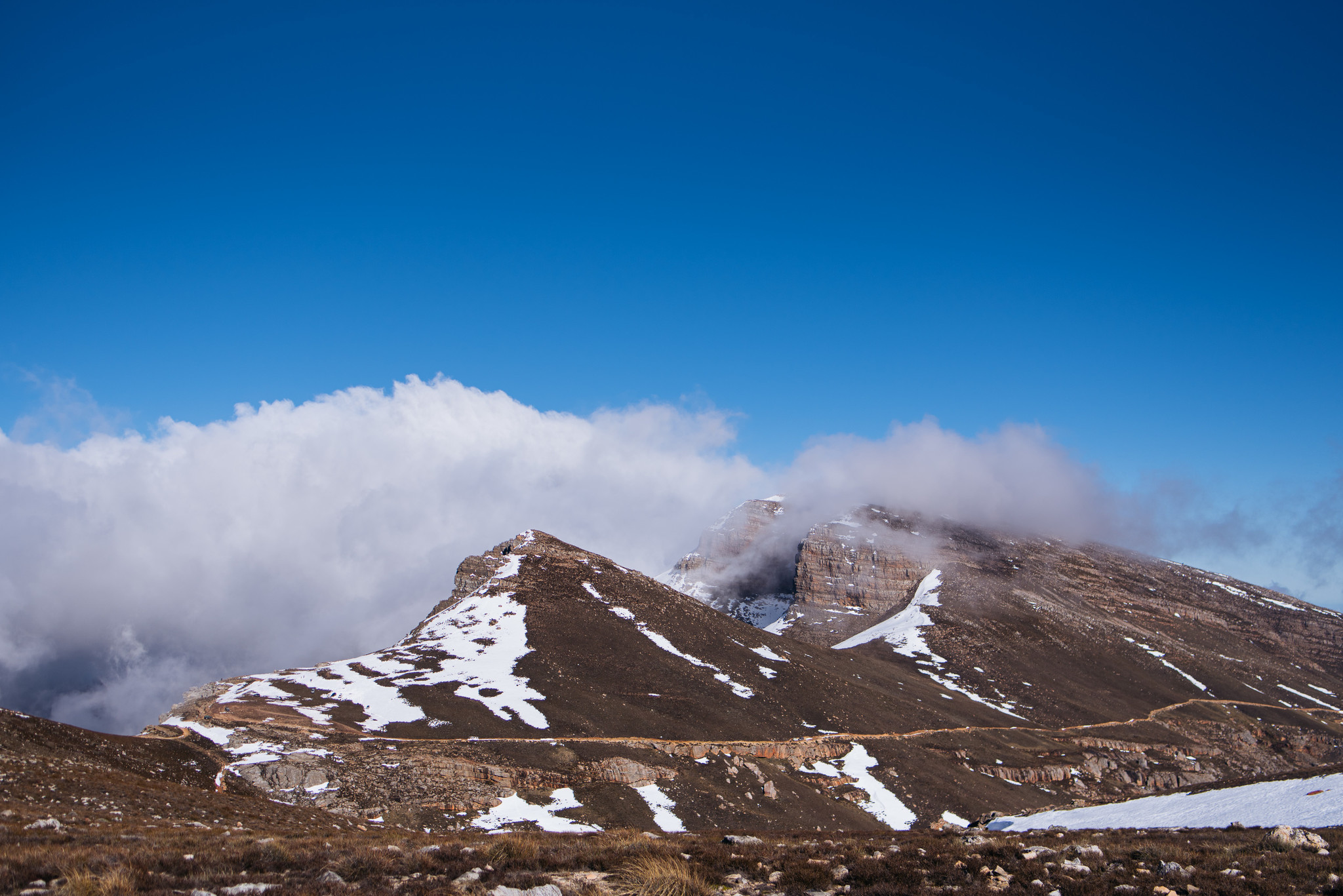 It is a place where few walk and even fewer stay over. We managed the risk for one night, and in that theatre near the summit we had the best seats in the house. We watched the great cliffs dance with the highest winds that cut cold into our skin with wild attraction. We were in the realm of dragons and eagles.
There were six of us. Carinè, Jan, Lani, De Wet, Josh the expedition photographer and myself. We spent the first night at base-camp near the foot of the Matroosberg mountain. We stood around the fire and shared stories of previous expeditions, also planning for the next two days in the mountains, making sure all our gear, food and fuel checked out. There was a cold front rolling in, and as the north western wind rushed through the pine trees above the camp after a hot day in Cape Town we knew that the heights we were about to visit had other, colder plans for us.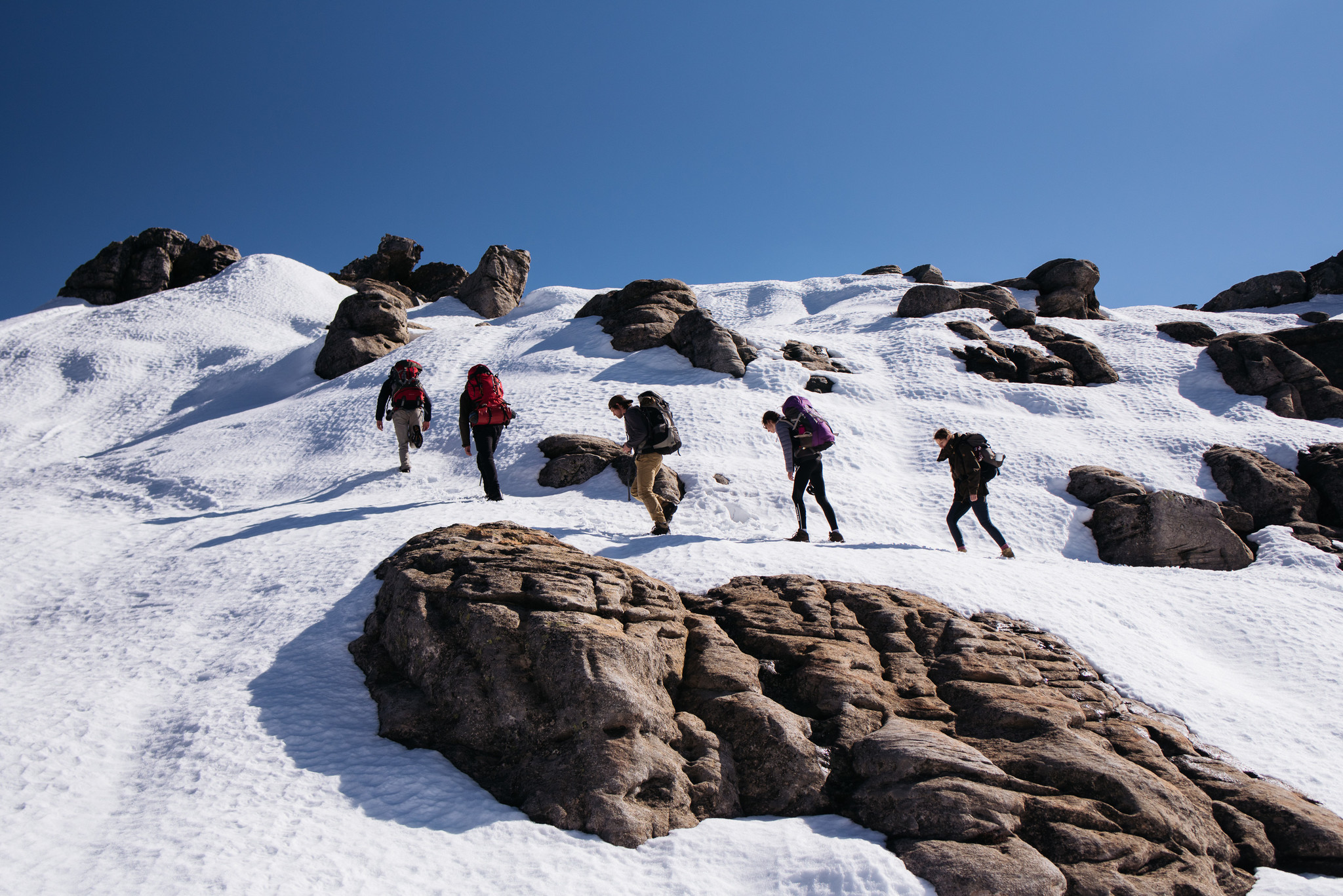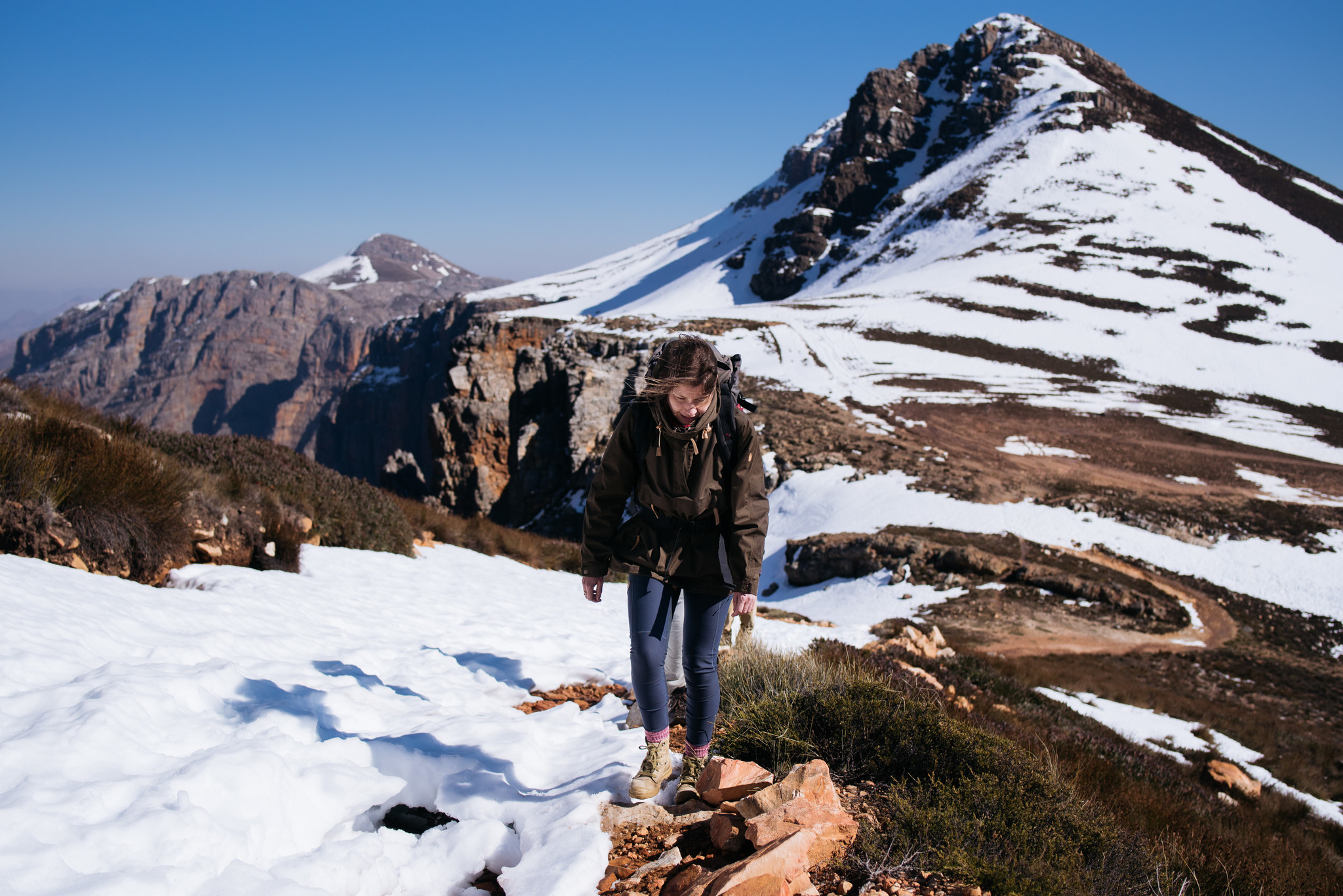 With this thrilling thought we went to sleep, and the next morning after packing up base-camp we left for the single-track path that would take us to where we needed to be: a spot 7 kilometres away over 2000m above sea level. Starting at an altitude of 1200m above sea level that meant gaining a further 900m.
It was a beautiful day and after about two hours of climbing we found ourselves marvelling at the thick layers of snow clinging to the mountain. With our eyes on the northern slopes watching skiers being pulled up the mountain by Ski Club of South Africa's ski lift, De Wet and Jan quickly slipped away and pulled out a space blanket to careen down the slopes, their laughter echoing over the rocks up and into the sky. The mountain was warm and inviting and Carinè and Lani excitedly followed them down.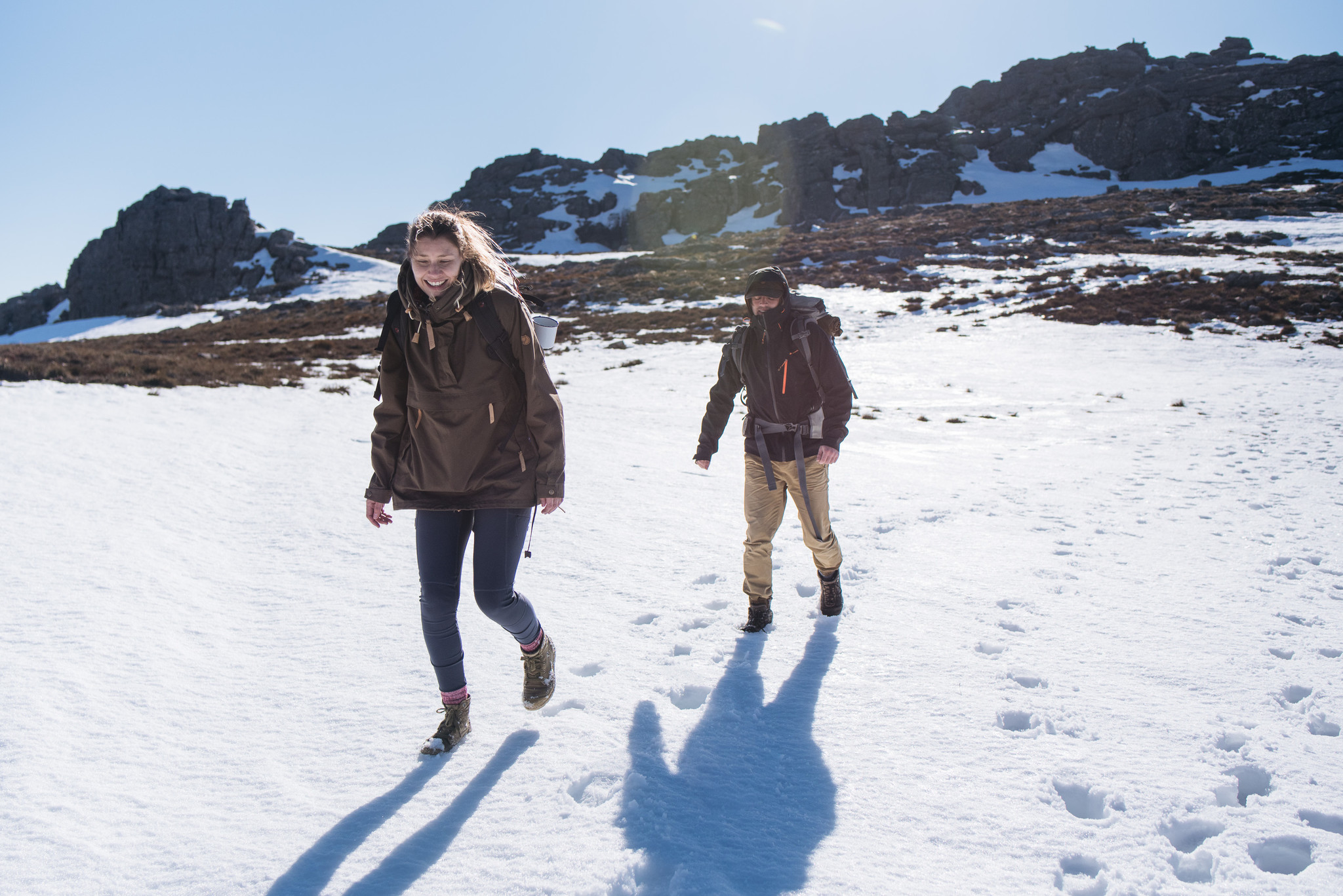 After a necessary stop for tea at a spectacular viewpoint looking down and over the Groothoek valley, we pushed up and higher, where we met the wind. As the expedition leader, I knew that the camp I had in mind should be relatively secluded, but the currency of most mountains is of course- doubt, and mountains hand this out for free, and with most things that is handed out for free, better to always investigate and take a closer look first. Also, doubts can become a good quality if you school them amidst these mountains.
When we reached the top, a plateau lay in front of us, and in the distance white and bright, a smooth and untouched blanket of snow stretched far and across the heights we are now a part of. We made our way to a nearby peak and spent the afternoon in the sun, filling and stretching our lungs with laughter and breathing in the cold crisp air. Somewhere between the festivities Carinè made a fantastic find – she spotted a leopard track! A timely affirmation of the solitary shy nature of these heights.
We moved to a secluded side of the mountain where a great wall of snow leaned cautiously away from the wind, creating an ideal spot for us to pitch our tents and prepare a kitchen area. With camp set up, we explored the surroundings in the last light of the day.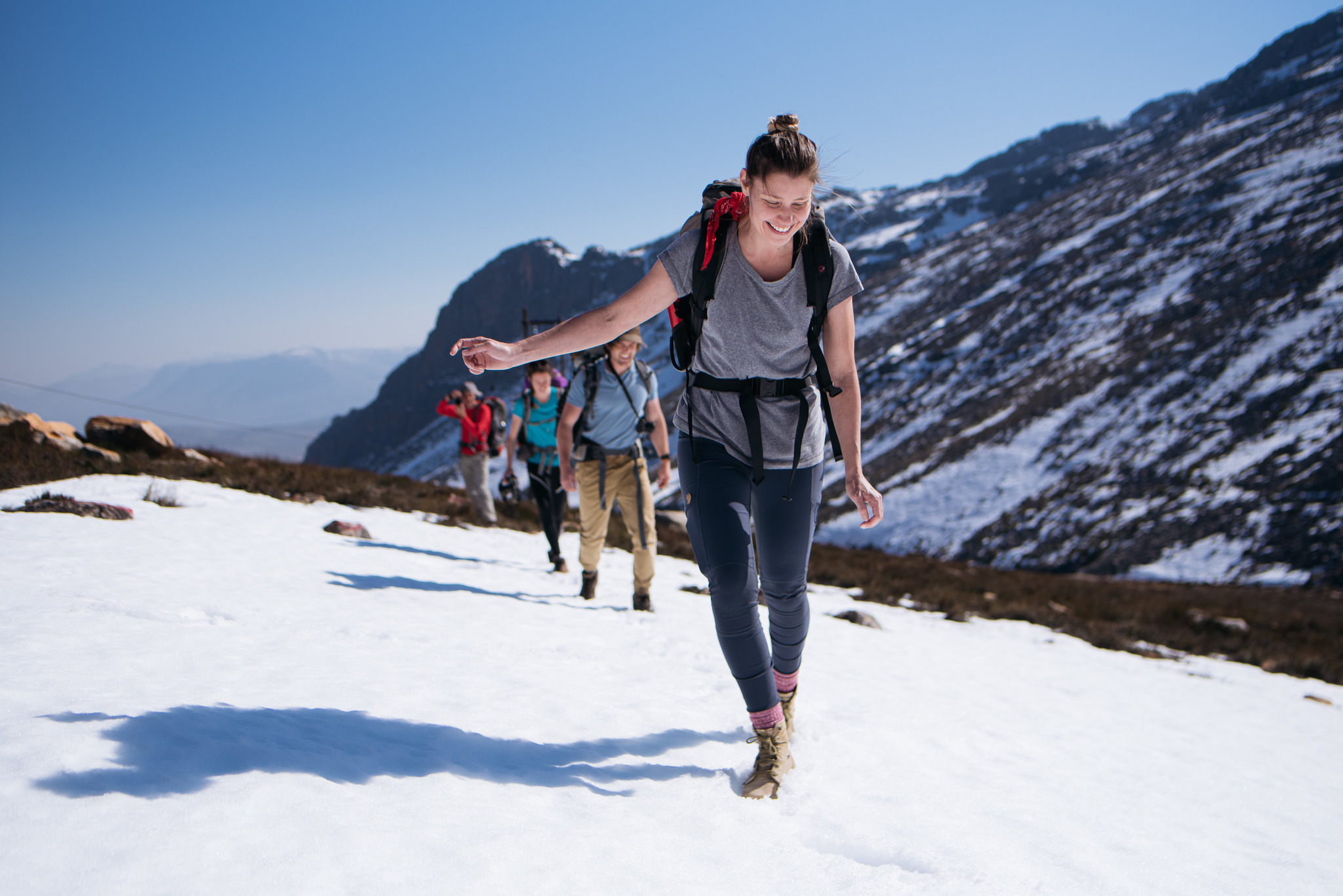 That night we melted snow in a pot and prepared dinner underneath a perfectly clear sky. The crescent moon was bright, and we could see the milky way stretch over us like the backbone of the heavens. We went to bed early and I would guess the temperature dropped to about -5'C during the night. In the morning, soft rain gave way to overcast skies and we watched the sun's rays penetrate the misty haze as it broke through the cracks of the clouds. 
It was an unforgettable night and a weekend with remarkable people. Their kind and wonderfully curious natures were amplified not only by the heights, but by the shared surrender to joy and fascination for untamed, wild places like these. What a wonderful opportunity it was to spend time in the presence of these mountains, towering masses of age, that sharpened our senses towards a grand solitude. They keep an eye on us always, and forever call to our hearts to come closer and learn their language.
Watch. Listen. Learn.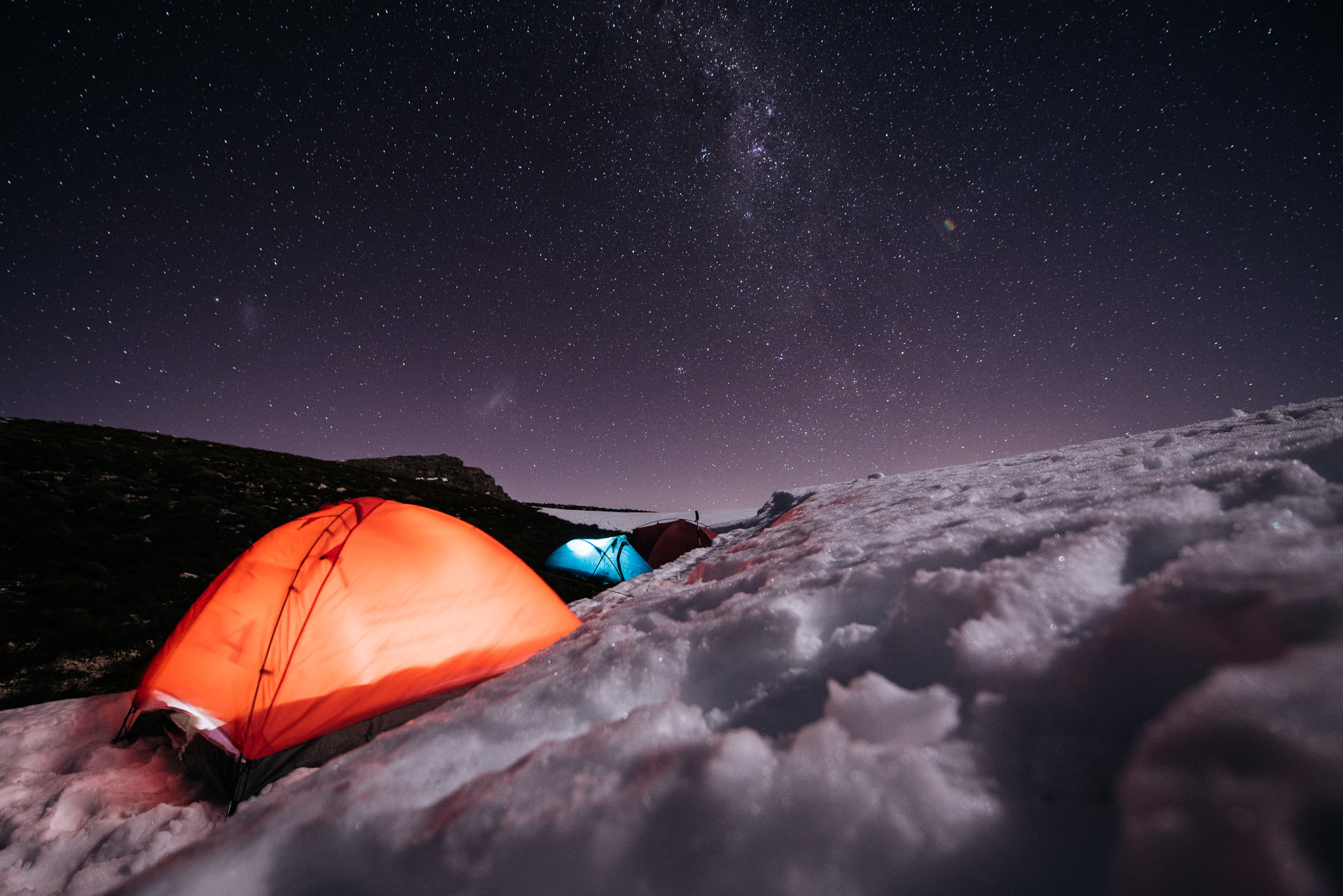 Francois's Packing List:
Cap
Beanie
Warm gloves
Sunglasses
Water bottle
Headlamp
Towel
Cloth for wiping off moisture from the tent
Multitool
Stove
Cutlery
Cup
Food (We used Mama Alles, which was easy to prepare and really tasty)
Tent
Sleeping bag
Sleeping mat (lightweight inflatable sleeping mat)
Backpack
Waterproof bag (I used a small one for all my valuables)
Personal hygiene items (tooth brush, toothpaste, etc)
First aid kit
Bandages
Painkillers
Sunscreen
Ear plugs (when the wind is howling outside and the summits sing their songs, this really helps)
Plasters
Toilet paper
Small garden shovel ((lightweight) for creating a small toilet)
Last but not least, a flash filled with whisky!
Francois's Clothing list:
Heavier knit wool socks x2
Thin liner sock x2
Trekking boots (Waterproof shoes really help)
Long Johns (To sleep in)
Fleece top (To sleep in)
Upper top base Layer shirt
Mid layer Jacket (Fjällräven Lappland Hybrid Jacket)
Trekking trousers
Windbreaker (Also waterproof)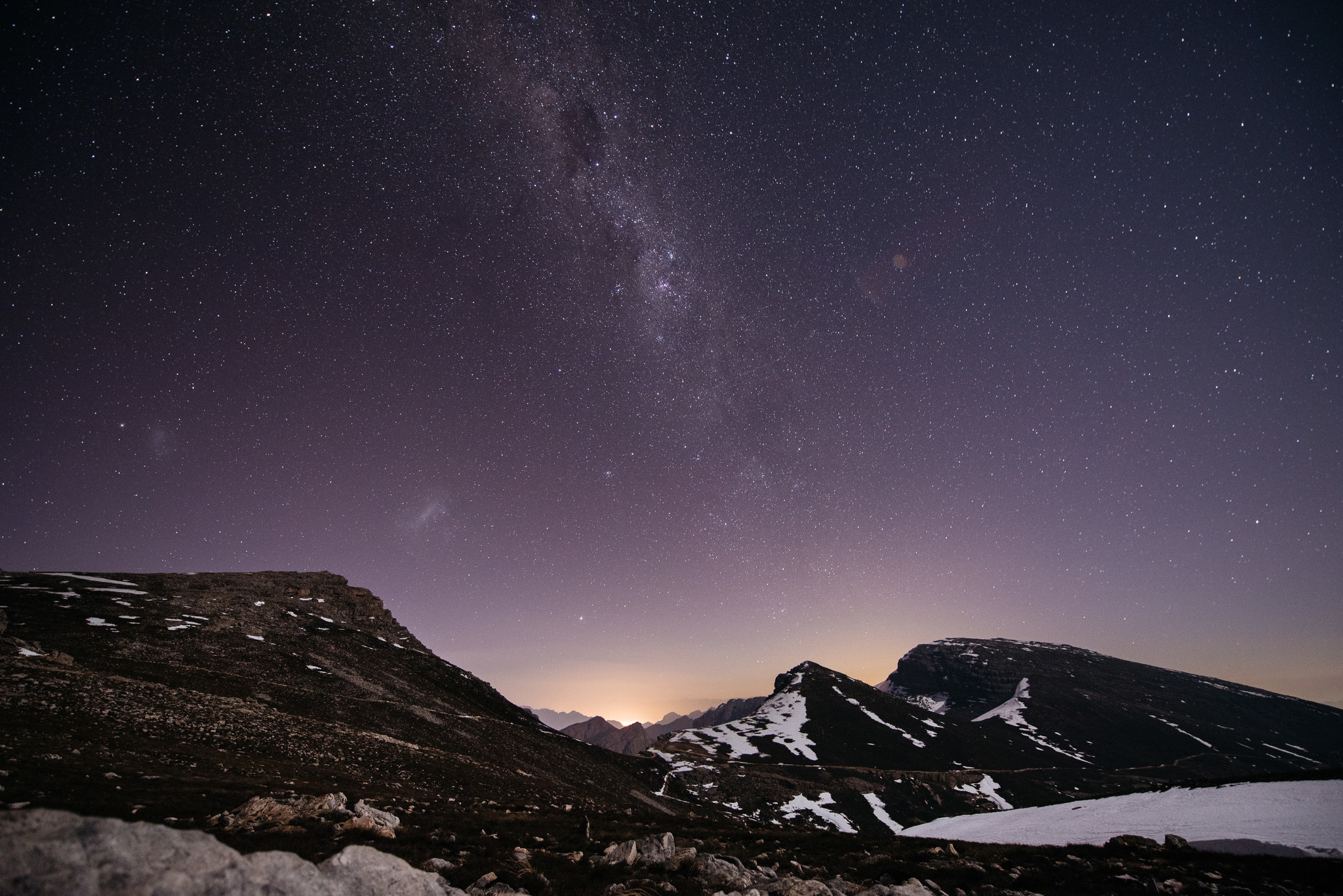 Tips for camping in the snow
Find the perfect place to pitch your tent: safe and away from strong winds.
Use double sleeping mats in the winter. (and take at least two space blankets, one for underneath your tent, and one underneath your mattress.)
Know the limits of you sleeping bag. (Make sure you have a sleeping bag that is warm enough, and take along some wool long johns and a fleece top to sleep in. Sleeping with a jacket on in a sleeping bag would prevent your body heat from reaching the air pocket created by the sleeping bag that keeps the warm air trapped inside)
Don't go to bed cold! (Before settling in for the night, make sure you climb into your sleeping bag warm. I usually do a couple of star jumps after a shot of whisky)
Fill your water bottle with hot water and pull a sock over it, this really helps to generate heat inside your sleeping bag in sub-zero conditions.
When you need to go to the bathroom, do so! (Braving the cold again for a couple of minutes is better than losing a whole night's sleep)
Open the vents in your tent. (Although this sounds counterproductive, keeping the vents open will minimise moisture. Moisture is bad because it rapidly cools you down. Do not cover your head completely in a sleeping bag, we breathe out about 1L of moisture during the night, and you do not want that inside your sleeping bag.)